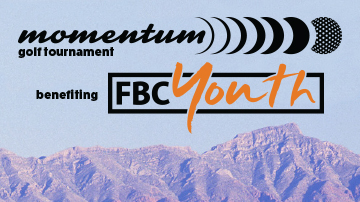 Event Date:
Saturday, April 21, 2018
Time:
Registration begins at 8:00am
Shotgun Starts at 9:00am
Tournament/League Format:
FBC Momentum Golf Tournament is a 4 person Scramble (par as your partner) event.
Entry Fee: $100.00 per player --or-- $400.00 per team
Includes:
Tournament/League Results & Information:
First Baptist Church youth programs seek to provide opportunities for the young people of El Paso to expand their horizons from a Christian perspective. All proceeds will help provide scholarships for middle school and high school students with limited resources to be involved in FBC Youth's Summer Camp and Mission Trip this summer.
The Momentum Golf Tournament will be held at Butterfield Trail Golf Club on Saturday, April 21, 2018. The cost of entry is $100 per player. There are various options for businesses and individuals to sponsor this tournament and have a sign present on the golf course.
SPONSORSHIP OPPORTUNITIES:
$50 - one of unlimited number of signs on the driving range

$50 - one of unlimited number of signs on a hole

$250 - one of four signs in each golf cart

$500 - exclusive sign on a hole and four free golf entries
Enjoy a round of golf while impacting the youth of El Paso!
Contact Info:
Please click on the Entry and Sponsor forms above.
You can print them directly to your local printer and mail to:
First Baptist Church
Attn: Jeremy Kroeker, First Baptist Church
805 Montana Avenue
El Paso, Texas 79924