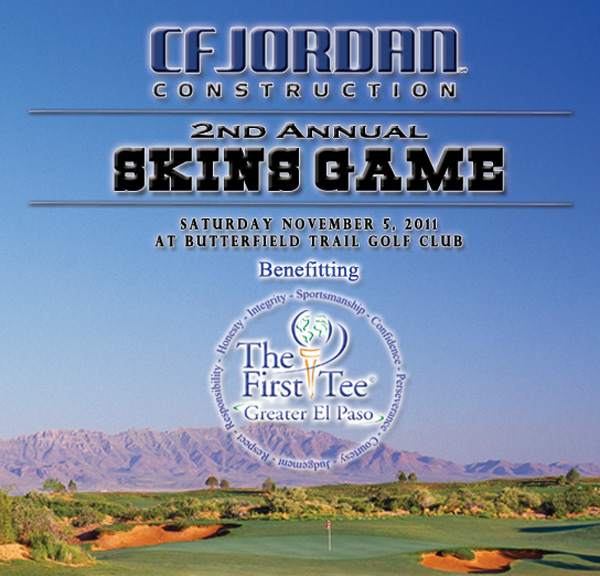 2nd Annual CF Jordan Skins Game
Saturday November 5th, 2011
at Butterfield Trail Golf Club
Featuring six professional golfers from El Paso! The day starts with a 1 PM Golf Clinic hosted by El Paso sports personalities Fred Albers and Steve Kaplowitz. The CF Jordan Skins Game tees off #10 at Tom Fazio's Butterfield Trail Golf Club at 2 PM. Following play spectators will have the opportunity to receive autographs from each player before a VIP reception begins in the clubhouse.
Tickets for the event and VIP reception can be purchased at the First Tee of Greater El Paso offices or online by clicking here.

The First Tee is an international youth organization focused on teaching life skills and golf skills to our youth. ­Our chapter's mission is to impact the lives of young people in the greater El Paso area by providing educational programs that promote character development and life-enhancing values through the game of golf.
Life Skills teaching revolves around The First Tee's 9 Core Values: Honesty, Integrity, Sportsmanship, Respect, Confidence, Responsibility, Perseverance, Courtesy and Judgment.
For more information please contact or call the First Tee of Greater El Paso at:
The First Tee of Greater El Paso
Contacts: Kristi Albers or Diana Watt