First Tee of Greater El Paso Benefit Golf Tournament
Event Date:
Friday, April 28, 2017
Time:
Registration begins at 12:00pm
Shotgun Starts at 1:00pm
Tournament/League Format:
Teaching El Paso's youth Lifeskills through Golf
Our vision is to teach The First Tee Nine Core Values and to give the children of El Paso the opportunity to learn to play the game of golf.
Since 1997, The First Tee has introduced the game of golf and its inherent values to the more than six million young people. On golf courses, in elementary schools and on military installations, we've helped shape the lives of young people from all walks of life by teaching them values like integrity, respect and perseverance through the game of golf. In addition to learning fundamentals of the golf swing and the game, our character education and life skills programs help young people prepare for success in high school, college and life.
All Teams will receive:
All golf fees at Butterfield Trail Golf Club
Commerative Special Gift
Dinner following golf, during scoring and awards
Drink Tickets while playing golf
Tournament Goodie Bag
Great prizes for team winners
Door prizies for random draw winners
Tournament/League Results & Information:
Tournament Timeline:
12:00 PM - Registration
1:00 PM - Shotgun Start at Butterfield Trail Golf Club
5:30 PM - Scoring and Awards
All proceeds stay in El Paso to develope lifeskills of our youth.
Tee Times & Pairings: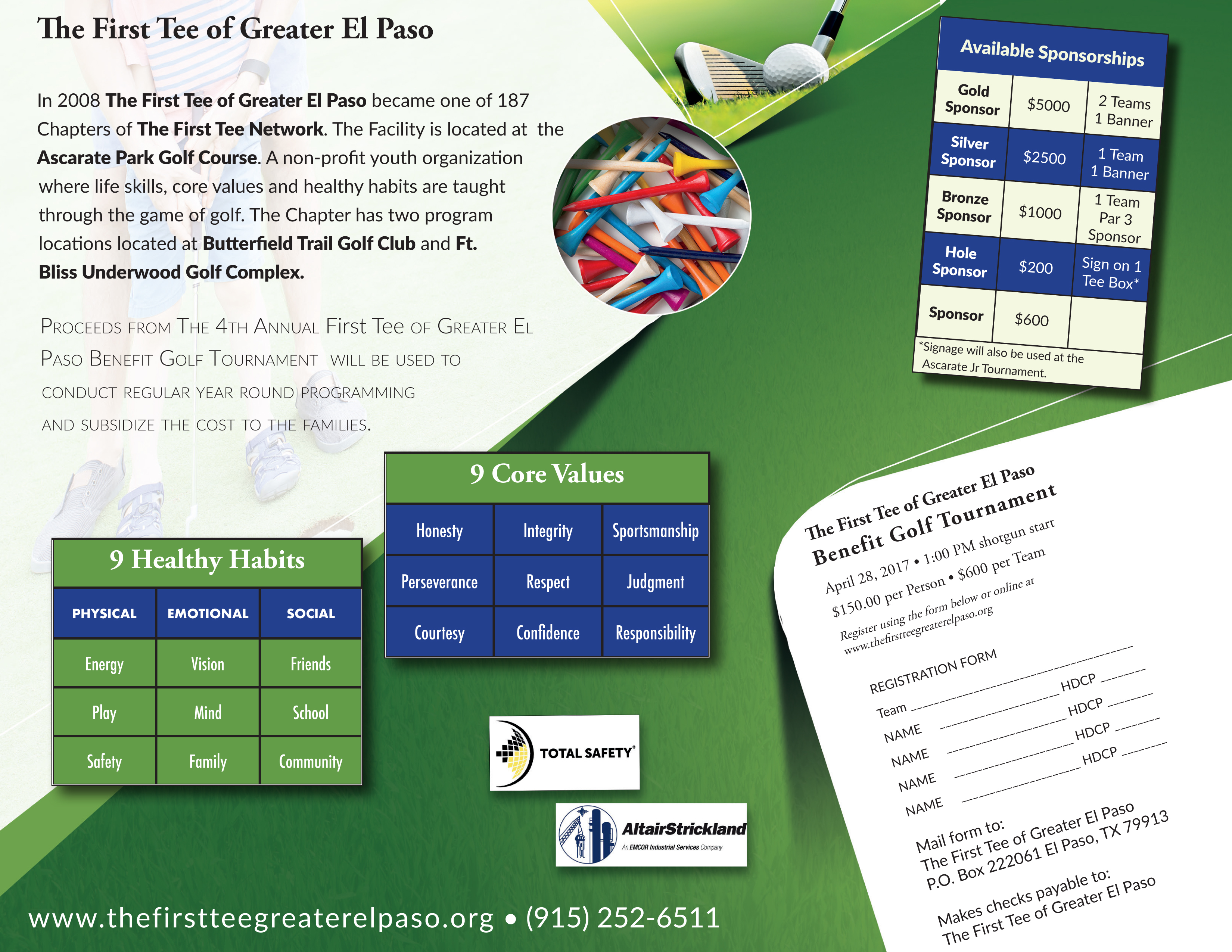 Contact Info:
The First Tee of Greater El Paso
Ascarate Golf Course
6900 Delta Drive
El Paso, TX 79905
Tel. (915) 252-6511
For more information about the First Tee of Greater El Paso visit: www.thefirstteegreaterelpaso.org